Social
Preserving the Promise, Propelling the Future.
HELPING COMMUNITY THRIVE
AT THE CROSSROADS OF AMERICA
The majority of the territory Wabash Valley Power serves is rural—and as the population shifts to more urban environments, both retaining existing businesses and attracting new employers to our smaller, more rural communities is paramount. That's why helping co-op members and their communities thrive is a fundamental part of the work we do.
For a small community, fundraising to support growth can be challenging, which is why we have provided over $1 million in support for local and regional economic development organizations over the last five years.
And while we have the land available to build on, it can sometimes be a challenge to find. So we further support our communities with our Power Sites program that is dedicated to marketing prime locations for development across our region.
Other community support services include local housing studies; workforce wage and benefit studies; grant-writing support for local infrastructure such as roads and bridges; and training grants to help local planners understand what they need to support new job opportunities.
Wabash Valley Power works with state economic development agencies, along with regional and local economic development teams, to attract business and industry, offering special rates and more than 150 incentive options for commercial and industrial co-op members.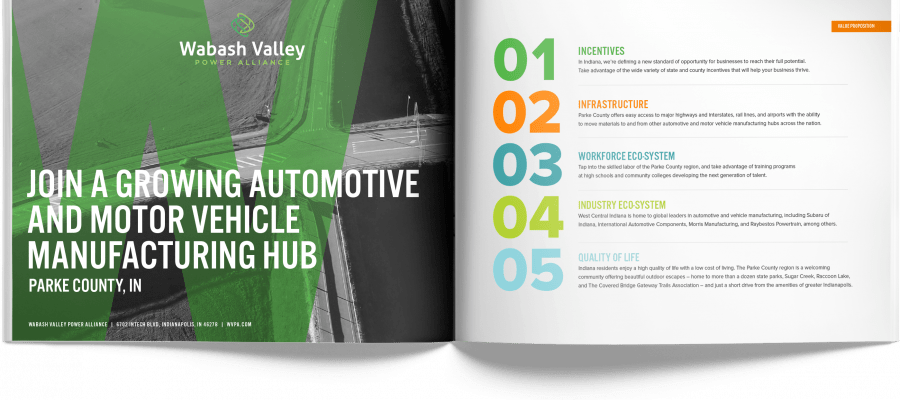 To further support our commercial and industrial members, a new construction and expansion program was added to our portfolio of efficiency programs in 2012. This program was designed to ensure that organizations moving into our communities—and those that are already co-op members—have access to a LEED-certified mechanical engineer and the latest in efficient equipment and services.
How does wabash valley power support local and regional economic development?
a
Promotion of Power Sites: prime locations for development
b
Special economic development rates
c
Business New Construction incentives
d. Wabash Valley Power does all that—and a lot more—to help drive economic development across the region.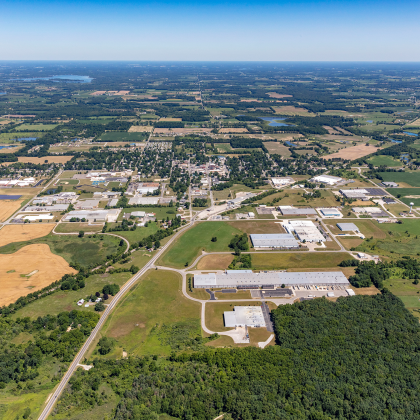 A Purpose-Driven Workplace
THE VALUES WE HOLD SHAPE THE FUTURE OF OUR COMPANY
When no one else would bother, providing electricity to a forgotten rural America ingrained in us a strong purpose that endures today. When our co-op thinks about corporate citizenship, we think about the 331,000 members at the end of the line—what we can do to enhance their communities and make their lives easier.
Understanding servant leadership is a guiding principle at Wabash Valley Power. Asking how we can help is where it all begins. And "Family First" is more than just a slogan at Wabash Valley. We develop employee policies with this mind, working together to create options that don't force a choice to be made between work and family.
The values we hold will shape the success of our employees and our organization. To that end, we've adopted seven core employee value statements that you may not find in a typical corporate environment:
Family First
We know what's most
important in our lives.
Teamwork
We get more done when we
work together.
Respect for others
Our diversity is our strength.
Competitiveness
You have to get up pretty early in the morning to beat us.
Transparency
Our people always know where we stand.
March to our
own beat
Your ideas are always
welcome here.
Have Fun
Life's too short to be miserable at your job.
Family First
We know what's most
important in our lives.
Teamwork
We get more done when we
work together.
Respect for others
Our diversity is our strength.
Competitiveness
You have to get up pretty early in the morning to beat us.
Transparency
Our people always know where we stand.
March to our
own beat
Your ideas are always
welcome here.
Have Fun
Life's too short to be miserable at your job.
IN A SMALLER ORGANIZATION, RAPID UPWARD MOVEMENT CAN REQUIRE PATIENCE
So we've chosen to focus our employee development inward, on personal growth that compliments job-specific skills. We use Gallup's StrengthsFinder assessment to help employees identify and understand their unique talents. We then focus on and promote those inherent strengths through our employee development program, GROW: an acronym for Groundwork, Results, Opportunities, Wisdom. It's unique to Wabash Valley Power, designed through employee focus groups to help us each understand who we are, how we work, and where we fit. Embracing this philosophy enables us to acknowledge and celebrate our differences, not run from them, because we share a common understanding of their meaning.
As an organization ultimately driven by members living at the end of the power lines, we believe it's important for our employees to leave our headquarters in Indianapolis and meet those members where they live—namely, at co-op annual meetings and community events. Our Meet Our Members program provides each employee with these opportunities, as they learn what it's like to live in the communities we serve. Recognizing and seeking to understand our differences helps employees frame the decisions they make every day. A reciprocal program, "Plugged In to Wabash Valley Power", also occurs quarterly. Plugged In is open to all local co-op directors and staff and is designed to help foster understanding of the unique roles each of us plays in delivering electricity.
The face of Wabash Valley Power has changed significantly over the past 5 years
Women now make up more than a third of our executive, senior and mid-level management staff. Of our 92 employees, 12% belong to racial minority groups and more than 1/3 are female. We will continue our efforts to build outreach programs that focus on creating diversity within our workforce. We believe in the power of individualism, that honoring each other's unique strengths will help us to build a stronger, more diverse organization.
SETTING HIGHER STANDARDS FOR A SAFER WORK ENVIRONMENT
WHEN YOU'RE WORKING AROUND ELECTRICITY, SAFETY IS JOB ONE.
Since early 2020, we've also faced an extraordinary risk to employee safety: COVID-19.
More than a decade ago, we developed a pandemic preparedness plan, and most Wabash Valley Power employees have spent the better part of two years working remotely. Our "Responsible Return to Work Plan" was developed and implemented as we returned to the office from remote status on June 1, 2021. As the spread of the additional variants continues to affect our world, we monitor CDC guidelines closely and communicate any updates to our employees. Our maintenance, field operations, and system operations personnel—most of whom could not shelter in place—have sustained daily operations while taking every measure to limit potential exposure to the virus. And our COVID protocols are continually updated as the situation warrants in order to keep our employees, contractors, and visitors to our facilities safe.
SAVING MONEY IS ONLY THE BEGINNING
Every three years, Wabash Valley Power conducts an extensive member survey to help us determine how we can better support the residential members of the local co-ops. With over 7,000 completed calls, the survey seeks to determine how we're doing as an electric provider and what we might do better.
The survey methodology is driven by the American Customer Satisfaction Index (ACSI), which takes into account four key indicators—overall satisfaction, how the utility measures up to expectations, how it compares with the "ideal" utility, and customer loyalty—and combines them into a single score that can be used to compare companies across industries. In our 2020 survey, participating Wabash Valley Power co-ops received an ACSI score of 84, outperforming not only all ACSI-scored utilities across the nation, but also such brands as Apple, Costco, Honda, Coca-Cola, Target, and McDonald's.
The survey is revealing in other ways, as well. It sends a strong message that co-op members skew older and less affluent, and that keeping rates low is of the utmost importance to them.
For what organization did Wabash Valley Power employees put together 15,336 meal kits to fight hunger in Indiana and around the world?
Answer: C. Pack Away Hunger is an Indianapolis-base nonprofit organization whose mission is to eliminate hunger in Indiana and around the world starts by providing nutritious food, hunger education, and service opportunities.
Data Protection and Privacy
A POWERFUL WEAPON AGAINST CYBERCRIME
There's no way to minimize it: Protecting our electric grid isn't just about keeping the lights on. It's a matter of national security.
And when it comes to stopping cyber criminals, there's no such thing as a silver bullet. It requires vigilance and diligence—and layers of security designed to catch hackers in the act and keep them from causing chaos.
Citizens Electric
Street Lights
Waste Management & Kinetrix Partnership
East Perry Lumber
Savings Across the Board
For more than 70 years, East Perry Lumber has been a big employer in Frohna, Missouri. In 2017, CEO Stan Petzoldt learned about a new log carriage system that could cut hardwood timber into measured logs more efficiently while improving worker safety. The big issue: The cost of the new system was significant, raising questions about whether the business could afford the upgrades.
Power Moves and East Perry's local electric co-op, Citizens Electric Corporation, made the difference. "It was a pretty expensive project for us, and we were on the fence as to whether or not we wanted to invest that much in a capital expenditure," Petzoldt said. "We found out we were eligible for a rebate, and after that, it put us off the fence and we decided to go ahead."
As a result, the company saved significant dollars upfront–and keeps saving year after year. The new, safer log carriage system uses 8.5% less energy, saving 306,600 kWh of electricity every year.
Project
Upgrading a hydraulic power log cutting carriage system with an electric system.
Local Partners
Partnership Highlights
Upgrade to electric equipment that used less energy and qualified for a Power Moves energy efficiency rebate.
Energy efficiency upgrade saved 306,600 kilowatt-hours (kWh) annually.
Financial Impact
Power Moves rebate that facilitated company officials' decision to pursue the equipment upgrade.
Lower energy costs from 13% decrease in demand and 8.5% decrease in energy usage.
Watered Down Demand
Shifting the Cost
Watering 3,000 acres of corn and soybeans at the Loehmer Dairy Farm in Monterey, IN twice a week comes at a significant cost for owner Maurice Loehmer. That's why he jumped at the opportunity to enroll his 20 electric irrigators in the PowerShift program offered by his local electric co-op Fulton County REMC when they approached him a decade ago.
During a PowerShift event, participating devices are shut down for several hours in the peak of the day and can be turned on once the event is over. Program participants learn of the events in advance, so they can plan ahead. Demand-response programs help preserve natural resources, delay the need for new power plants, and keep electric costs lower for all co-op members.
"The irrigation program makes it much more cost effective," said Loehmer. "I have never had an issue with crops needing water when the irrigators have been controlled."
Drive in the park
Paving the Way to Progress
Mitch Melton had the perfect spot for his Rochester, IN landscaping business. The problem? He couldn't get there. Blacketor Park needed to extend a road and add utilities to reach the site Melton had his eyes on. That's where Fulton County REMC and the Fulton County Economic Development Corp. (FEDCO) came together to secure a $190,000 matching grant from the U.S. Department of Agriculture's Rural Economic Development Loan and Grant (REDLG) program.
Wabash Valley Power funded grant writing support and services to pursue the USDA grant, which will fund an 1,100-foot extension of Blacketor Drive, provide utilities to the business park's undeveloped 32 acres, and create a community development fund.
"Getting that road and infrastructure in place unlocks land for development," said Brian Anderson, director of economic development and public relations for Wabash Valley Power. "The project has a benefit multiplier."
Citizens Electric
Taking Savings to the Street
It's a fact: For street and security lighting applications, light-emitting diode (LED) lighting is more efficient than other options, such as high-pressure sodium outdoor lighting. LED lights are brighter, last longer, and use less energy.
Since 2016, Citizens Electric Corporation, based in Perryville, Missouri, has been upgrading street and security lighting throughout its territory to LEDs. Over this time, Citizens Electric has received more than $375,000 in Power Moves rebates from Wabash Valley Power for upgrading nearly 6,200 light fixtures. The upgrades save more than 1.9 million kilowatt-hours of electricity annually.
They also save money. According to Perryville City Administrator Brent Buerck, the city was spending more than $60,000 a year on street and security lighting. The new LEDs have saved the city over $20,000 a year.
Project
Retrofitting more than 7,900 street and security lights in communities and neighborhoods in southeastern Missouri.
Local Partners
Citizens Electric Corporation
Partnership Highlights
Power Moves rebates for energy efficiency replacements that save 1.9 million kWh annually.
Collaboration with local communities in Citizens Electric's service territory to lower annual energy costs.
Financial Impact
More than $375,000 in Power Moves rebates for energy efficiency upgrades to communities' local lighting infrastructure.
Additional savings in long-term energy and lighting replacement costs.
Fleece Performance
Turbocharging Growth
Fleece Performance, a Pittsboro, Indiana manufacturer of turbochargers, has been growing 30 – 50% a year since their founding in 2008. With all that growth came the need for a bigger facility.
So when Fleece began planning their new 75,000-square-foot building, they contacted their local REMC—Hendricks Power—and members of the Power Moves team. The team includes a LEED-AP certified engineer to help develop building designs with more energy-efficient systems and work with contractors to ensure the equipment they install qualifies for rebates.
As a result, Fleece Performance installed energy-efficient lighting and a variable frequency drive on the air compressor that powers equipment throughout the facility. Those choices had some happy consequences: $25,000 in Power Moves rebates and ongoing energy and cost savings year after year.
Project
Installation of energy-efficient lighting and a variable frequency drive (VFD) on the air compressor powering equipment in a new 75,000-square-foot headquarters building.
Local Partners
Hendricks Power Cooperative
Partnership Highlights
Consultation with the LEED-AP certified engineer on the Power Moves team early in the design process to best incorporate energy-efficiency elements into new building design.
Energy-efficient upgrades to the facility resulting in 316,754 kWh of energy savings per year.
Financial Impact
$25,000 Power Moves rebate for energy efficient upgrades.
Additional annual savings in reduced energy usage.
The Barn III
Lights, Camera, Savings
The Barn II in Goodfield, Illinois had been a dinner theater for 40 years when, in 2015, it was destroyed by a violent thunderstorm and tornado. But the show must go on—and owner Mary Simon found a new partner in Abby Reel to bring back the venue as The Barn III. The owners worked with Corn Belt Energy to create a custom LED theatrical lighting system that provides brighter lighting to the stage while using 97.5% less energy than the previous system, helping reduce the facility's energy costs from about $4,000 to about $1,000 a month—on top of the upfront savings made possible by energy efficiency rebates from Power Moves.
"Abby and Mary have worked tirelessly to restore a longtime Central Illinois gem," said Jeremy Myers, energy advisor for Corn Belt Energy. "It's always great when we can work with business owners to help them accomplish their goals. This project was a terrific bonus by bringing back a local landmark with added offerings that will help people make even more great memories."
Project
Efficient LED theatrical lighting system for The Barn III, a rebuilt regional dinner theater, plus additional LED fixtures throughout the facility.
Local Partners
Corn Belt Energy
Small Business Administration
Partnership Highlights
Installation of a customized LED theatrical lighting system, saving 11,000 kWh annually over a conventional lighting system.
Installation of LED fixtures that are 40% more efficient than code throughout the facility.
Financial Impact
More than $5,300 in Power Moves rebates for multiple projects.
More than 11,000 kWh in annual energy savings.
DESTIHL Brewery
A Barrelful of Savings
A successful course on crafting sour Belgian beers inspired Matt Potts, CEO and brewmaster of DESTIHL Brewery, to develop a faster souring process for the company's flavorful beers. The brewery then began selling its Wild Sour Series in cans in September 2014; demand grew so quickly that the microbrewery expanded its sales to 30 states. That ultimately led to the company's most recent expansion that includes a $15 million, 47,000-square-foot destination brewery and beer hall.
DESTIHL worked with Corn Belt Energy, their local REMC, on upgrades including LED lighting, energy-saving variable frequency drives on motors used in the brewing and canning process, and energy efficient coolers and freezers. As a result, DESTIHL received Power Moves rebates of $25,000 in upgrades that will save $20,000 in annual energy costs.
Clare Little
Making Electric Connections
As a teenager, riding in her parents' car steered Clare Little toward her career goal. It was a journey that started when, as a child, she would look at transmission lines and substations while glancing out the window on drives with her father, who worked in the utility industry. "I would always ask questions like 'What's that?' and want to learn more," Little said. "I decided to do something in the utility industry, and then I found out that I had a love of engineering." That experience led Clare to major in electrical engineering at Purdue University—and three summer internships at Wabash Valley Power Alliance boosted her drive to reach her destination. Clare completed her first summer internship in 2019, her second in 2020, and her third in 2021, all with our engineering and transmission team. Among other projects, she helped create Google Earth maps showing transmission lines and routes in areas served by our distribution cooperatives that are still used by Wabash Valley Power engineers when planning projects.
Power Moves Home
A Solid Foundation for Savings
Retired contractor Don Acheson and his wife Clare were planning to build an energy-efficient new home on Fish Lake in LaGrange County, Indiana, when the effects of the COVID-19 pandemic sent lumber prices skyrocketing. Instead of using wood to build his home, Acheson chose insulated concrete forms (ICF) for the walls, which provide superior air sealing and thicker insulation than traditional building methods. He also opted for a closed-loop geothermal system, which uses a heat exchanger and the mild underground temperatures to heat and cool the home more efficiently than other equipment. The Achensons' new home qualifies as a Power Moves Home, which uses an average of at least 20% less electricity than other newly constructed homes and is 79% more efficient than a resold house. They were told about the program by Jake Taylor, energy advisor at LaGrange County REMC. "Don already had this thing designed as a Power Moves Home, and he didn't even know it," Taylor said. "This was a slam dunk."
Southwest Parke Community School Corporation
Use Less, Get Paid
In 2019, Riverton Parke Junior-Senior High School received nearly $4,000 in Power Moves rebates from Parke County REMC, their local electric cooperative, for upgrading school lighting to more energy-efficient LEDs. And that was just the beginning of the benefits of working with their local REMC. The school has saved thousands more by participating in the PowerShift demand response program that helps businesses and residences control their energy use during peak demand times when energy is most expensive. The program shuts down several large chillers, five air handlers, and conditioned water pumps when demand is highest, helping them save more than 8% in energy costs every year.
Augusta Hills
The Power to Make Life Better
As a career nurse, Marilyn Emmert treated many patients suffering health complications caused by a lack of exercise. That's why, when she and her husband retired, they envisioned a new local community center in Albion, Indiana, that could help local people stay fit.
That vision became the Augusta Hills Learning, Recreation and Community Center, located in a renovated building that had previously been a golf course clubhouse. And to get things kicked off right, the project received more than $12,000 in energy-efficiency rebates from Power Moves and Noble REMC for LED lighting and a geothermal heat pump that uses moderate temperatures in the earth to heat and cool the building.
Renovations began in 2020 and were completed in 2021—but Noble REMC's commitment started even earlier. The co-op's employees devoted their 2019 Community Day to help clean and prepare the old clubhouse for renovations.
Project
Installation of a ground source heat pump for a new gymnasium featuring a full-size basketball court and elevated walking track; and interior lighting upgrades throughout the new community center.
Local Partners
Partnership Highlights
Power Moves rebates for energy-efficiency upgrades that save 43,877 kWh annually.
Noble REMC employees volunteered during Community Day to clean up the former golf clubhouse and prepare it for renovations.
Financial Impact
More than $12,200 in Power Moves rebates for energy-efficiency improvements.
Additional savings in long-term energy costs.
INDIANA STATE SANATORIUM
More Than a Ghost of a Chance
Opened in 1907 as a facility for patients with tuberculosis, the Indiana State Sanatorium in Parke County, Indiana, had been converted to a nursing home—then shuttered for several years when Cyndi Todd, executive director of Partnership Parke County, noticed it had been shuttered and owed back taxes. To help in redevelopment, Wabash Valley Power paid for a Phase I site assessment. The property eventually caught the eye of civil engineer Gregg Larson, who was looking for an historic property to rehab. Larson is currently working with Parke County REMC on energy planning and upgrades, in anticipation of preparing the buildings for weddings, receptions, and other large-scale gatherings. In the meantime, the site has attracted ghost hunters, military training exercises, and even a group of Viking reenactors.
Indiana FFA
Helping Train Young Leaders
At Wabash Valley Power, we're proud of the role we and our distribution co-ops play in bringing reliable, affordable power to rural America. We're passionate about the future of the region we serve—which is why we're committed to Indiana FFA and its 12,500 young members. For the past several years, we've sponsored sessions at the annual Indiana FFA State Convention and three-day Foundations in Reaching Excellence (FIRE) conference that help develop skills and leadership qualities in children and teenagers. In addition, we hosted FFA officers to help them learn about the utility industry—and specifically about what makes electric co-ops different. Kara Baker, Wabash Valley Power communications manager, will serve as a mentor for a state officer in 2022.
"I am immensely impressed by the quality of leaders FFA develops," Baker said. "It's encouraging to see students who work so hard and who are really passionate about leadership, agriculture, and their communities."
KINETRIX
Transforming Landfill Gas to RNG
For two decades, landfill gas has been part of the Wabash Valley Power portfolio—capturing dangerous methane to generate electricity. Five years ago, employees learned landfill gas was being used to generate renewable natural gas (RNG). A new partnership between Wabash Valley Power and Kinetrix Energy, a subsidiary of Kinder Morgan, Inc. (KMI), will harness this technology at three new facilities in Indiana.
"We expect these facilities will produce renewable fuels that will ultimately replace approximately 28 million gallons of traditional diesel each year, lowering greenhouse gas emissions by about 280,000 tons," said Aaron Johnson, president of renewable natural gas for KMI. "That's like taking 60,000 vehicles off the road annually."
"As our industry continues to transition to a sustainable future, enabling the creation of renewable energy is a significant point of pride for our organization," said Brian Fitzgerald, executive vice president of engineering and operations for Wabash Valley Power.
SOUTHERN LIBERTY FARMS
Savings Against the Grain
For at least a week each fall, longtime Camden, Indiana farmer Jerry Sparks would end his day climbing exhaustedly into each of five grain bins to ensure that his corn was drying properly. That all changed in 2020, thanks in part to a rebate of more than $3,500 from Power Moves and Carroll White REMC for variable frequency drives (VFDs) installed on his farm's new grain dryer system. VFDs control the amount of electricity going to a motor, providing the power that is needed, which boosts efficiency. The new VFD system replaced five in-bin grain dryers and eliminated the need for climbing in and out of bins.
"This was my wife's dream to see this happen. It was the best move I've ever made," said Sparks, who started working alongside his father on the farm that his dad started in the late 1940s. "I was stunned after the first season. I would never dream that they would ever be that efficient."
Citizens Electric
Street Lights
Waste Management & Kinetrix Partnership